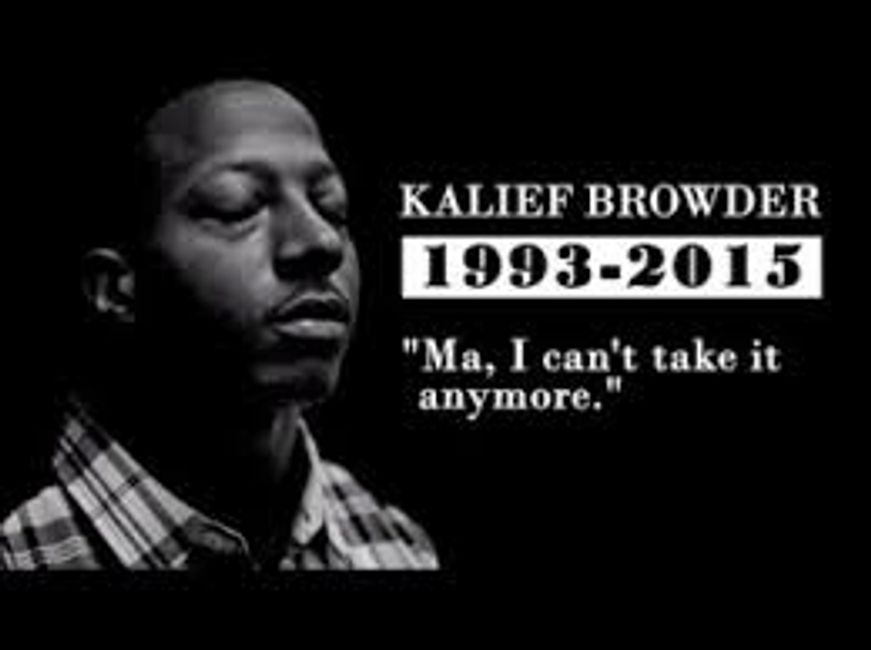 Kaleif Browder
Kaleif Browder Lock Over 1000 Days & Innocent
He was convicted with crime in court. They kept him in solitary confinement for over 1000 days about 3 years. He had over 30 different court dates. Due to lack of evidence they kept him in jail and kept trying convince him say guilty. Kaleif Browder said, He would not give up. He stood up to our justice system. They thought he stole backpack.
Learn More
Learn More about his lifeWIKIPEDIA OF KALIEF BROWDERThey throw him in one worst jails Rikers Island were ;they throw innocent people all time. They think jail will break people to say they are guilty. Most people do end up giving in and saying their guilty to get out their. Kale if would not give up and he stayed. He said, Why would I plea guilty for something I did not do.. Look for More info on Rikers Island on our corruption tab.Two years after his release, Browder committed suicide at his mother's home. His supporters say his death was the result of the mental, physical and sexual abuse he sustained in prison. More Coming SoonYou will not be forgotten. We will continue this fight for you so other people will not go throw what you did. We thank you for fighting for the people and showing us the truth. We need more people like him to show world the truth of corruption and Innocent.
Learn More
Take look at our corruption tab to learn more about what going on at Rikers land jail.CLICK HERE
Watch Time: The Kalief Browder Story | Netflix
CLICK HERE Protect You Privacy Now Before It's Too LateThe World's richest companies are technology companies. Data and knowledge are the most expensive and desirable commodities on Earth.Data and knowledge are power! Our company has a lot data and knowledge of subjects that NO one else has.Remember, you heard it first at ProtectYouPrivacy.comAccording to a survey done in 2018, there has been 46,000 to 230,000 innocent people locked away.We are one of the first companies to protect companies' privacy, as well as to protect the people!We reserve the right to turn down clients. All client information is private and confidential. We will not help you break the law or cover anything up.We are only here to help you protect your information, company and personal life. Hire someone you can trust and can't be bought. We will not give out any information on our clients, even if they subpoena our company. We will notify the client if they do. We will fight a subpoena in court with a lawyer. If a client wants us to stand up for them or help, we can.Copyright © 2019 Protect You Privacy – All Rights Reserved.